Welcome to Jerian Chiropractic in Henderson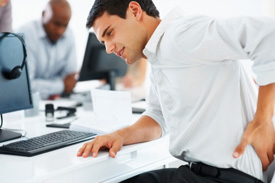 In our Henderson office we believe that health is among our most valuable possessions. While we generally meet people after they have lost their health, we also attract those who want to maintain and improve their health before problems begin. Either way we can help:
Priority #1: Quality Chiropractic Care
There are two stages to your care. The first is relief and corrective chiropractic care. This is where most people start. During this initial stage of intensive care, we have several obligations:
Uncover the underlying cause of the health problem
Suggest a care plan to produce the fastest results possible
Offer ways patients can participate in their recovery
Explain the value of post-symptomatic wellness care
The second stage is wellness care. We encourage our patients to achieve the highest levels of health they can. In order to maintain and improve the level of health achieved during the initial phase of care, Dr. Jerian will recommend a program of chiropractic checkups. Our desire is to see our practice members abandon the idea of waiting for symptoms and then taking action, in favor of the emerging wellness model.
Priority #2: Chiropractic and Wellness Education
We focus on three pillars of wellness:
1. Physical health: exercise, posture, chiropractic care, etc.
2. Chemical health: proper nutrition, minimizing toxins such as drugs, etc.
3. Emotional health: positive thoughts, minimizing stress, etc.
Ask us more about these pillars of wellness. We find that those who get the best results in the shortest time is because they truly understand how their body works and the real meaning of health.
Priority #3: Outstanding Service
You'll find our office to be a happy, friendly and FUN place. Unlike other medical institutions, your wait times are minimized. You are NOT just another insurance card and if you don't leave with a smile on your face, we haven't done our job. We encourage questions and an open exchange of information regarding health and wellness. The better you understand who we are, what we do and why we do it, the better results you'll enjoy.
Regardless of your health goals, please understand that you are in control of your health care. You're the boss! It's your body, your health and your future. Our job is to offer you the finest chiropractic care possible. It's up to you to decide how much of it you want.
Don't wait! Call our Henderson chiropractic office to get started with chiropractic care today!